Sprinkler Repair in Round Rock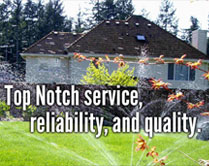 We will keep your lawn green!
Our irrigation specialists will trouble shoot your system and make sure there are no broken lines, wires or clogged heads. We also make sure that your system is mechanically sound and operating efficiently. You deserve to have a sprinkler system that lasts. Sprinkler maintenance is the best way to extend your sprinkler system's life span. We take care of all sprinkler systems.
Round Rock irrigation repair: inspect, test, price quote, repair
The rocky soil in Round Rock presents issues for irrigation systems. As the earth shifts the rocky terrain can crack irrigation tubing without notice. The opposite end of the Round Rock soil is blackland dirt great for farming and digging and very tough on sprinkler systems. We are equipped to handle all of these problems. Whether you live by Dell Diamond or off of 620 past Scott & White we are your best choice for sprinkler repair.
Common Irrigation Issues:
Clogged Heads
Broken Pipes
Frozen Lines
Broken Timer
We Will Answer All Your Irrigation Questions
If you have a system that is giving you grief, we can turn the problem around for you. We will answer each of your questions. We make sure that the job is explained in detail so that you aren't surprised with hidden fees. We make sure the job is done with care and quickly. Our sprinkler professionals have excellent training. Call Top Notch Irrigation today and we will get started on your irrigation problems.