Backflow Preventer Testing and Repair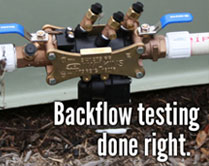 We are experienced, certified Backflow specialist.
Sprinkler Backflow is reverse flow from the normal direction into your piping system. It occurs due to a differential pressure existing between two points within a continuous fluid system; a fluid of high pressures flowing to a fluid of lower pressure. Backflow may occur due to either "back siphonage" or back pressure. We can test your system. Back flow testing
Why do you need your Backflow tested?
Backflow Prevention Assemblies and Devices break or wear out.
Round Rock send a notice to homeowners with sprinkler backflow device every 7 years.
When an assembly is not working correctly it can become a health hazard
Helpful advice from the City of Georgetown
A lawn sprinkler permit is required before you install any lawn irrigation system which you permanently connect to the City's water supply.
A lawn sprinkler permit is not required when making repairs to the piping of an existing lawn irrigation system unless the back-flow prevention device is being replaced.