Need Sprinkler Repair in Georgetown?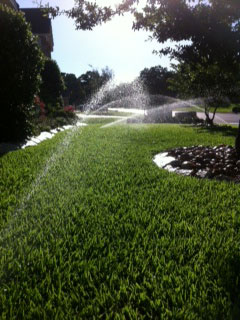 Top-Notch Irrigation and Sprinkler Repair can solve any of your sprinkler problems. James Wood and his crew have been repairing sprinkler systems in Georgetown for many years. If you have broken lines, leaking heads, or any other sprinkler problems, we will fix it quickly and guarantee their work.
You can have the greenest yard in Georgetown
We can solve your sprinkler problems while you shop at Georgetown's Historic Georgetown Square or take a swim at Blue Hole near San Gabriel Park. Let us maintain and repair your irrigation system and you can enjoy a beautiful lawn without wasting money on water that is running into the street.
Maintain your Sprinkler System
Regular sprinkler maintenance will keep your irrigation system operating at peak performance. You will conserve water and have a nice, green lawn. At Top Notch Irrigation and Sprinkler Repair, we will inspect and repair anything related to your sprinkler system, including broken lines due to trees roots invading the system. Georgetown has water restrictions for sprinkler systems.
Are you over watering your lawn?
Your lawn reaches saturation and then the only thing growing is your Georgetown Utility bill? Sounds pretty basic, but over watering is a big problem. Properly setting your system controller is the key to controlling over watering. Small, simple adjustments can be beneficial for you and your lawn. With years of experience in sprinkler repair, we know what those adjustments are and will be happy to set your controller.

What can we do for you?
No surprises when it comes time for the bill
We keep our customers well-informed of the work needed and the cost involved before we do any repair work. There are no surprises. We won't perform any work until you approve our recommendations.
We have the technology to insure your sprinkler system is set correctly and repaired successfully
As we complete a repair on your sprinkler system, we are mindful of your individual needs and watering requirements. We use current technology and our many years of experience on each sprinkler system repair to insure the job is done right. We want you to be 100% satisfied.
You want the best in sprinkler repair?
We are the best in quality and customer service. Here's a few of the reasons why we are called Top Notch.
We fix it right the 1st time and guarantee our work
We have up front pricing. This means you will know what it costs before we start, no hourly charge or hidden pricing
We instruct you on your sprinkler system so you are not watering the curb
Georgetown has recently been putting water restrictions in place. We want you to have a beautiful, green lawn. We also want you to be in compliance with The City of Georgetown's regulations and restrictions for watering your lawn.
Note: broken sprinklers that waste water can get you a ticket.

Appointment scheduler
Leave a Review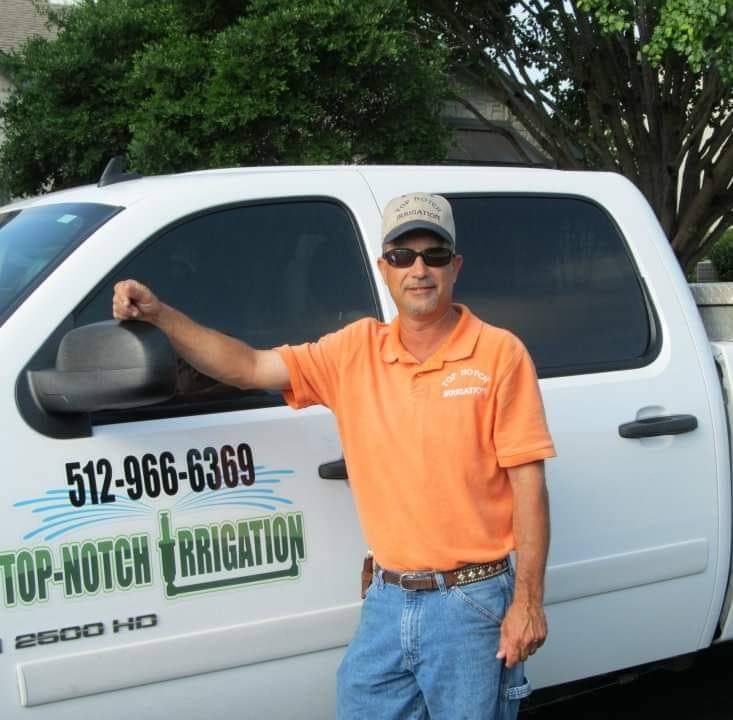 James Wood, owner of Top Notch Irrigation.

"First class job and very fair price! We found them on Google and we had a great experience. A+ all the way around. We highly recommend them."
- Mark M. -

"Top Notch Irrigation Repair is the best there is when you need sprinkler repair service. The owner, James Wood, supervises all the work himself."
- Tom C. -

"I've used Top Notch Irrigation for over 3 years. They do the best job on irrigation systems that I have experienced. They are always prompt and knowledgeable."
- Jim C. -

"Top Notch Irrigation repaired a problem I had with my sprinkler system. They are very Knowledgeable professional and give great "top notch" service."
- Edward L. -

"These guys are the best! I found Top Notch in my HOA newsletter. They showed up on time, fixed the issues promptly and were very professional."
- Gregg H. -