How do sprinkler systems work?
There are many facets to a lawn irrigation system. Each sprinkler system, be it Hunter, Irritrol, Rainbird or Weathermatic, has many of the same inner workings to make the water flow happen. It's a good idea to know some of the basic functions of your homes sprinkler system and also to have regular maintenance on it.
Here's a few of the parts your system has...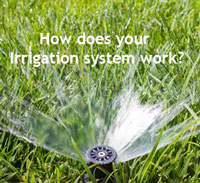 Backflow Preventer
Controller
Manifold
Rain Sensor
Rotary Head
Spray Head
Solenoid Zone Valve
Valve Box
Timer
Knowing how your sprinkler works is an important part of having a healthy lawn
Each of these parts plays a very important role in the function of your homes sprinkler system. If all or one of these is not operating properly your system could shut down. Don't wait for a problem to occur, have your irrigation system inspected today!