Top Notch Irrigation - Sprinkler Repair
We are your local Irrigation and Sprinkler repair company specializing in complete lawn sprinkler repair, efficiency audits, controller set-up, and more. We will come to your location, perform a detailed sprinkler system inspection. We will evaluate each sprinkler head and nozzle, making sure it is popping up above the grass height to spray effectively. We will verify all rotating nozzles are moving freely and make any directional adjustments needed.
Lawns are greening up and flowers beginning to bloom. This is a time of year your lawn needs attention and your sprinkler system needs a tune-up. Our sprinkler repair technicians are licensed and experienced in every type of sprinkler system. The Top Notch difference
Why customers prefer Top Notch Irrigation?
"We're not just building a business, we're building relationships."
With most sprinkler repair companies you will never meet the owner. This is just one of the things we do differently. You will meet with James Wood the owner to talk about your irrigation system needs. At Top Notch Irrigation we take pride in the work we do and it shows. Beginning with the owner to each employee at Top Notch we work for you.
From the first conversation you have with us, you will notice the difference. We give you up-front pricing and excellent service every time. We earn your confidence, trust and respect. Our secret: product knowledge and a superior work ethic.
Your yard is is a place to play, entertain and raise a family.
We know your yard is important to you. Your irrigation system is installed to be an easy way to keep your lawn healthy and attractive. Our job is to make sure the sprinkler system is doing its job the right way. We are the best local choice for your sprinkler repair needs. The Top Notch difference will be obvious in everything we do for your homes irrigation system.
We make sure your system is operating at peak performance so your lawn is healthy with great curb appeal. Plus, keeping your system operating efficiently may very well lower your utility bills, sometimes dramatically. We have specific irrigation troubleshooting techniques to help us pinpoint common system failures.
By putting off regular maintenance to your sprinklers, nozzles, valves, etc. the cost can significantly add up. By having your lawn sprinkler system checked on an annual basis you're lowering your risk of expensive repairs and increasing the performance and helping to save water.
Is your lawn thirsty or full?
Did you know your lawn has a full line and once it reaches its limit the only thing growing is your water bill? Sounds pretty basic but over watering your yard is a big problem. Keeping your sprinkler systems maintenance up to date is extremely valuable, simple adjustments can be very beneficial for you and your lawn. With years of experience in sprinkler repair we know what those adjustments are, and how to help you water your yard perfectly. Sprinkler Tips
We service all types of sprinkler systems including:
Rain Dial
Orbit
Toro
and more...
How can we help you enjoy your lawn?
Irrigation System Repair
Sprinkler inspection
One thing we strive to do is keep our customers well-informed of the work that needs to be performed so there are no surprises about the cost of our services. We all, including myself, have had an experience of getting a ridiculous bill for work that has already been done and we are expected to pay the bill. It could have been from a mechanic or tire shop or another business/contractor. Whatever the case, it's not a good feeling. Top Notch Irrigation will let you know what the work is going to cost before we do the repair work. We won't perform any work until, you, the customer approves what we are recommending. For a fee, we will check all heads for coverage, efficiency, functionality, and give our recommendations. It's up to you whether you want to proceed with the type of service we recommend.
As we complete a repair on your sprinkler system, we are mindful of your individual needs and watering requirements. We use current technology and our many years of experience on each sprinkler system repair to insure the job is done right.
You want the best in irrigation and sprinkler repair?
We are the best in quality and customer service. Here's a few of the reasons why we are called Top Notch.
We fix it right the 1st time
We have up front pricing. No surprises or hourly charges
We stand by our work... Guaranteed
We inform you on the ins and outs of your sprinkler system so you are not watering the curb
Backflow certification and repair
Irrigation repair
Spray nozzle adjustment / replacement
Rain sensor installation
Water conservation
Controller set-up and programming
Sprinkler head adjustment / replacement
Irrigation valve problem
Sprinkler pipe break repair
Wire break location and repair
For all irrigation and sprinkler problems, contact the pros at Top Notch Irrigation.

Appointment scheduler
Leave a Review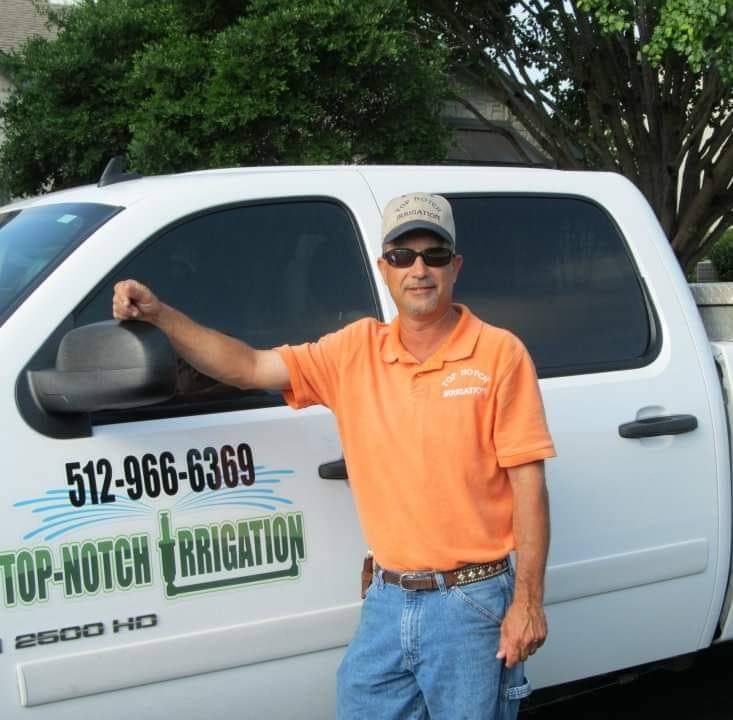 James Wood, owner of Top Notch Irrigation.

"First class job and very fair price! We found them on Google and we had a great experience. A+ all the way around. We highly recommend them."
- Mark M. -

"Top Notch Irrigation Repair is the best there is when you need sprinkler repair service. The owner, James Wood, supervises all the work himself."
- Tom C. -

"I've used Top Notch Irrigation for over 3 years. They do the best job on irrigation systems that I have experienced. They are always prompt and knowledgeable."
- Jim C. -

"Top Notch Irrigation repaired a problem I had with my sprinkler system. They are very Knowledgeable professional and give great "top notch" service."
- Edward L. -

"These guys are the best! I found Top Notch in my HOA newsletter. They showed up on time, fixed the issues promptly and were very professional."
- Gregg H. -